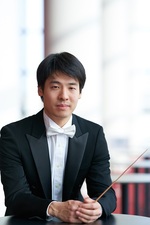 Shurihito MATSUMOTO(Conductor)
Born in Toyonaka, Osaka in 1993, Shurihito Matsumoto has spent in Soai Music class and Century Youth Orchestra while young and being familiar with violin. After finishing Horikawa Music Senior High School, he graduated Tokyo University of Arts, conducting major with highest degree, winning Acanthus Prize. His mentors include Tadaaki Otaka, Masahiko Kurano, Ken Takaseki, Yoshikazu Tanaka in conducting and Kazuki Sawa and Chieko Sokabe in violin. While in college, Matsumoto attended masterclasses by Douglas Bostock and Paavo Järvi. From April 2019 to March 2022, he was the conductor of the Sapporo Symphony Orchestra and has appeared in many towns in Hokkaido. In October 2022, Matsumoto was on the podium of Subscription Concert of Tokyo City Philharmonic, the orchestra that he started his career as a researcher. Since then, he appeared in Yomiuri Nippon Symphony Orchestra in February 2021, Osaka Philharmonic in September the same year, and other major orchestras in Japan, including Yamagata Symphony, Sendai Philharmonic, Gumma Symphony, Tokyo Symphony, New Japan Philharmonic, Nagoya Philharmonic, City of Kyoto Symphony Orchestra, Kansai Philharmonic, Osaka Symphony and Japan Century Symphony Orchestra. He is one of the young and talented conductors in Japan, who catches much attention.
---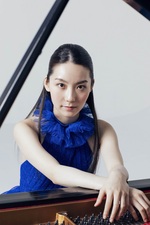 © Ayako Yamamoto
Kanon MATSUDA(Piano)
Kanon Matsuda was born in the city of Takamatsu, Japan. Beginning in 2002, Kanon was a student of the Gnessin Secondary Special Music School (college), in the class of Professor Elena Ivanova. In March of 2004, Kanon was awarded the Grand Prix at the International Piano Competition in memory of Grieg in Moscow. In November of 2006, she was the winner and recipient of the Golden Nutcracker in the 7th International Television Competition for Young Musicians "The Nutcracker" in Moscow. In April 2009, Kanon received the first prize and gold medal at the AADGT International Young Musicians Competition "Passion of Music" in New York. In November 2010, she was awarded the Grand Prix at the International Competition "Classic-2010" in Aktobe and following year, she won the Scriabin Scholarship "Path to Scriabin." In March 2012, she won the Romantic Music Festival of young musicians in Moscow and a year after, she was awarded the title "Best Student of 2012 Gnessin Special Music School." In September of 2013 she received a grant for the training program "New Talents" from the Ministry of Culture of the Russhian Government; graduated from the Gnessin Secondary Special Music School, receiving the "Red Diploma" following summer. In August of 2014 she entered the Moscow State Conservatory on a scholarship from the Russian government and completed the course in June 2021. Kanon released her first disc in Japan in November 2014, on the label Deutsche Grammophon. Her second album "Pictures at an Exhibition" was released in June of 2017. Kanon gave her debut performance in an orchestra concert at the age of eight. She has performed with such conductors as Andrea Battistoni, Pietari Inkinen, Kazuyoshi Akiyama, Masahiko Enkoji, Tadaaki Otaka and Ken Takaseki, and with numerous orchestras including the State Academic Symphony Orchestra of Russia, the National Philharmonic of Ukraine (Kiev), Pragu Symphony Orchestra, the Sapporo Symphony, and Tokyo Symphony. In 2012, Kanon gave a successful performance in Japan with the Russian National Orchestra under M. Pletnev on the orchestra's Asian tour; and took part in the largest festival of the Russian National Orchestra in Moscow, as well as in concerts of the Philharmonic Seasons (Yekaterinburg, Chelyabinsk). In July of 2016 and 2017, at the Mariinsky Far East Festival in Vladivostok, Kanon gave very well received performances with the Mariinsky Orchestra conducted by Mo. Valery Gergiev.