Appearing
Conductor / Tatsuya SHIMONO
Song List
| | |
| --- | --- |
| SCHUBERT | Symphony "Unfinished" |
| BEETHOVEN | Symphony No. 5 |
| Dvorak | Symphony No. 9 "From the New World" |
The concert series in Kitara on either Saturday or Sunday afternoon, starting from 2pm.
【2022-2023 A set of four Masterpiece Concerts】will be on sale on Tuesday, February 15, 2022 ※A Set of Four: SS 16,000 yen, S 12,800 yen, A 9,600 yen, U25(A) 4,000 yen ※Ticket Offices: Doshin Playguide, Community Plaza Ticket Center, Kitara Ticket Center 『 Listen to Masterpiece Concerts』 『2022-2023 Season』Leaflet(PDF-Japanese only) 【Single Tickets】will be on sale starting 10am on Wednesday, July 6 (for Sakkyo Members, ●●/●●~) ●The concert will take place following the governmental request re: "Limitation on Events under COVID-19." Details of our action will be on this website. There may be change in appearing artists and/or program depending on the situation re: COVID-19. ●Tickets of the concert is non-refundable unless cancellation by force majeure. Please consider your conditions and circumstances before purchasing your ticket. (as of January 2022)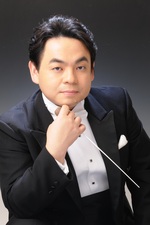 © Naoya Yamaguchi
Tatsuya SHIMONO(Conductor)
Born in Kagoshima in 1969, Tatsuya Shimono cemented his international reputation as a conductor by winning the First Prize at the 47th Besançon International Competition in 2001. Since then he has regular relationships with a number of international orchestras including Orchestra dell'Accademia Nazionale di Santa Cecilia, Czech Philharmonic Orchestra, Stuttgart Radio Symphony Orchestra, Orchestre National des Pays de la Loire, Südwestdeutsche Philharmonie Konstanz and Silicon Valley Symphony, alongside with major Japanese orchestras. In 2006 Shimono was appointed Resident Conductor of the Yomiuri Nippon Symphony Orchestra and served as their Principal Guest Conductor from 2013 through 2017. In April 2017 he became General Music Director of the Hiroshima Symphony Orchestra. Shimono is currently also Music Director of the Hiroshima Wind Orchestra and Principal Guest Conductor of the Kyoto Symphony Orchestra. In addition to his work with symphony orchestras Shimono's opera conducting has included Die Zauberflöte, Hänsel und Gretel and The Merry Widow at Nikikai Opera, Medea, Lear (both composed by Aribert Reimann) and Hänsel und Gretel at the Nissay Theatre, La Forza del Destino at the Japan Metropolitan Opera and The Silence (Teizo Matsumura) at New National Theatre Tokyo. He has been invited to a plethora of music festivals, including the Affinis Music Festival, the Kirishima International Music Festival, the Miyazaki Music Festival, and the Beppu Argerich Music Festival. He was resident conductor at the 2010 Saito Kinen Festival that included conducting four concerts with the Saito Kinen Orchestra. Following on from this he made his North American debut with the orchestra at Carnegie Hall. Contemporary music forms an important part of Shimono's career, conducting repertoire across the spectrum including Ades, Cage, Glass, Gruber HK, Adams, Takemitsu and Hosokawa. Tatsuya Shimono's recordings include Strauss Ein Heldenleben with the Czech Philharmonic Orchestra and Bruckner Symphony in D minor (No. 0) with the Osaka Philharmonic Orchestra. Tatsuya Shimono received numerous awards such as the Idemitsu Music Award, the Akeo Watanabe Music Foundation Award, the Nippon Steel Music Award (New Artist Award), the 6th Hideo Saito Memorial Fund Award. He was invited to join the faculty of the Kyoto City University of Arts in April 2017.