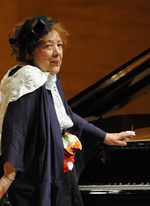 © 中嶌英雄
Ingrid Fuziko Hemming(Piano)
Born in Berlin to a Swedish artist/architect father and a Japanese pianist mother, Fuzjko started playing piano at an early age taught by her mother. At the age of ten, she took proper lessons from Leonid Kreutzer, a highly influential piano teacher, who immediately predicted that one day she would be a sensational pianist whose play would fascinate people all over the world. Having graduated from Tokyo University of the Arts and won various musical prizes in Japan's major competitions including the NHK Mainichi Music Contest and the Cultural Radio Broadcasting Inc. Music Prizes etc., Fuzjko entered the Berlin Institute of Music with the highest grade, and later moved to Vienna to study under Paul Badura Skoda. With the support from leading authorities on classical music such as Bruno Maderna, Leonard Bernstein, Shura Cherkassky and Nikita Magaloff who all praised her amazing talent, Fuzjko went on to play various concerts, but she then faced the prospect of losing her hearing after a terrible accident. In 1999, Fuzjko's acclaimed recital as well as her documentary broadcast on NHK TV created a huge sensation in Japan and made her a star with the multi-million selling debut album, "La Campanella", followed by more top selling albums, an unusual phenomenon in the classical music scene. This resulted in her receiving the Classical Album of the Year Award at Japan's prestigious Gold Disc Awards, not only once but four times, a feat that has never been achieved by any other artist! Fuzjko has been actively performing numerous solo recitals and collaborating with international orchestras and musicians such as the Moscow Philharmonic and the Royal Philharmonic Orchestra and many more. As Mischa Maisky refers to Fuzjko as "an unforgettable pianist!" and Maxim Vegerov expresses "I'm an admirer of your art!", Fuzjko is appreciated by many musicians who have collaborated with her. Over the years she has been invited to perform at many European festivals and in 2010, she played on the very last day of the Warsaw Chopin Festival held at a historical palace in front of the specially invited VIP audience. She is also a very caring person and a great animal lover. She constantly performs charity concerts all year round. There is also an animal welfare organisation bearing her name in Germany.
---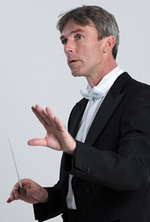 © Y.Fujii
Mário KOŠÍK(Conductor)
While still a student, Mario Košik appeared as a conductor with the Capella Istropolitana and with the Symphony Orchestra of the Academy of Performing Arts, Bratislava. His activities include collaboration with prominent Slovak and world-ranking musicians (Klaudia Dernerová, Peter Dvorský, Ján Babjak, Dalibor Jenis, Peter Oswald, Ulrike Anima Mathé, Jiří Bárta, Ivan Ženatý, Václav Hudeček, Eva Urbanová…). During his career as a conductor, he has collaborated with the following orchestras: Slovak Philharmonic, State Philharmonic in Košice, Slovak Sinfonietta in Žilina, Slovak Radio Symphony Orchestra, Capella Istropolitana, Musica aeterna, Slovak Philharmonic Choir, Bratislava Boys´ Choir, "Echo" Youth Choir, Chamber Philharmonic in České Budějovice, Carlsbad Symphony Orchestra, Jenaer Philharmonie, State Philharmonic Brno, Moravian Philharmonic Olomouc, Prague Chamber Philharmonic. Mario Košik performs every year in Japan with the Dvořák Chamber Orchestra. During the 2002/2003 season, he staged the premiere of the Slovak ballet "Rasputin" in the Slovak National Theatre. In 2003 he led Slovak and Czech orchestras on tours in Germany, Japan and Italy. He has released recordings for the Slovak Television, Czech Television, Slovak Radio, ORF and Slovart.