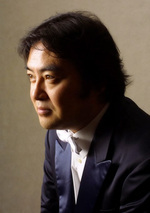 © K.Miura
Kazune Shimizu(piano)
Shimizu took first prize of the Marguerite Long-Jacques Thibaud International Competition and also a recital prize in 1981. In 1986 he performed with the London Symphony Orchestra, conducted by Gennady Rozhdestvensky, for his London debut. From 1995 to 1997, Shimizu performed all Beethoven piano sonatas in Tokyo. These concerts were recorded and released as a complete set under the Sony Classical label. From 2004, he started to record the complete Chopin piano works, and 5CDs from Octavia Records have been released. He has performed with many of the world's orchestras including the London Symphony Orchestra, Chezh Philharmonic Orchestra, Sydney Symphony Orchestra and Mariinsky Orchestra, and has performed with conductors including Gennady Rozhdestvensky, Vladimir Ashkenazy, Gianandrea Noseda, Zdeněk Mácal, Michael Tilson Thomas, and Valery Gergiev. To celebrate the 30th anniversary of his debut, Shimizu performed his beloved Rachmaninov piano concertos 1-4, and the Rhapsody on a Theme of Paganini, in a single concert in August 2011. This amazing achievement proved that he continues to be a leading pianist on the world stage. Shimizu has begun a series of ten recitals entitled "Kazune Shimizu's PIANISM," which he will perform twice a year from 2014 to 2018. Celebrating his 35th anniversary of his debut in 2016, Shimizu played Brahms Piano Concert No.1 and No.2 with the conductor Battistoni impassionately in May. From April this year, he begun a series of 6 chamber music series entitled "Geigeki Brunch Concert" a year.
---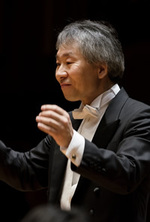 © K.Miura
Toshiaki Umeda(Conductor)
Born in Tokyo in 1961, Toshiaki Umeda began learning piano at the age of five under Naoyuki Inoue, Yasushi Arai, and others. Completed undergraduate degree at Toho Gakuen School of Music in 1984, studying conducting under Seiji Ozawa, Kazuyoshi Akiyama, and Tadaaki Odaka, contrabass under Mitsuru Onozaki, and piano and chamber music under Akira Miyoshi. Studied under Jean Fournet 1983-84 during Fournet's stay in Japan. Completed graduate studies in the research department in 1986. Sent on the recommendation of the NHK Symphony Orchestra to study at the Hochschule für Musik und Darstellelende Kunst in Wien in 1986-87, where he studied under Otmar Suitner. Following his return to Japan, Umeda served as conductor for the Century Orchestra of Osaka from December 1989 to April 1992. Since April 1990, has also been the conductor for the Sendai Philharmonic, and made his subscription concert debut in September 1992, conducting Bartok's Concerto for Orchestra. In addition, was conductor of the Kanagawa Philharmonic from April 1992 to March 1996. In April 2000, he took up the post of permanent conductor for the Sendai Philharmonic Orchestra. He exerted concerted efforts toward its development, and continued in that post until March 2006. He has performed with such major Japanese orchestras as the NHK Symphony, the Yomiuri Nippon Symphony, and the Tokyo Metropolitan Symphony Orchestra. He has serves as guest conductor in joint concerts with the major orchestras of Japan, including the NHK Symphony Orchestra, the Yomiuri Japan Symphony Orchestra, and the Tokyo Metropolitan Symphony Orchestra, building deep relationships of trust with them all. At both the 1st and the 2nd Sendai International Music Competitions, in 2001 and 2004 respectively, he conducted all of the concertos (in the two sections of violin and piano) and received high praise for his work from the performers, the audiences, and from judges from both at home and abroad. In January 1996, Umeda won accolades for conducting subscription concerts of the Sudwestdeutsche Philharmonie and the Slovak Philharmony. He has obtained the deep trust of all orchestras with which he has worked for his astute conducting and his stance of fidelity to music, making him one of the most promising conductors on not just the Japanese but world stage. Please contact Japan Arts if you wish to edit this biography.