Appearing
conductor, violin / Isao FURUSAWA
Song List
| | |
| --- | --- |
| Saint-Saens | Introduction et Rondo capriccioso en la mineur |
| Bruch | Scottish Fantasy |
| Monti | Csardas |
●Concert Details HBC web site (Japanese only) ・Please inform your name and contacting information when you purchase your ticket. Your information may be handed over to health authority. ・Those who shows fever or any symptom such as coughing cannot enter the hall. ・Face mask is essential for entering and please cooperate in body temperature measurement and sanitation of your hands and fingers. ・Eating inside the hall is prohibited. ・There will be no cloak service. ・We ask not to bring presents for the artists. We cannot allow people to wait outside the hall. ・Babysit service is not available.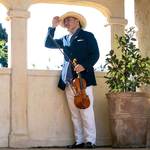 Isao FURUSAWA(conductor, violin)
Born in 1959 and has started to the New Stage production with Taro Hakase since 1986. Furusawa studied under Milstein, Végh, Gitlis, Bernstein, Celibidache among many others, and performed with Yo-Yo Ma, Pletnev, Peter Damm, Asado Brothers, Yuji Takahashi, Grappelli and Fuzjko Heming. Every year in December, Furusawa presents Christmas Concert with members of the Berlin Philharmonic. He also performed the theme music for FM program "JETSTREAM," and is taking a part in "D-no-Senritsu (Melody of D)," the program by Television Tokyo which started in April 2021 on Competition Dancing. Furusawa is granted a lifelong loan of "San Lorenzo 1718," the most expensive Stradivariusby by Soji Collection. The most recent CD is "The Ecstasy of Gold" (HATS) produced by TAIRIK. He is the visiting professor of Senzoku Gakuen College of Music and Director of COCO FARM WINERY, and is a member of TERRAMOS Racing Team.