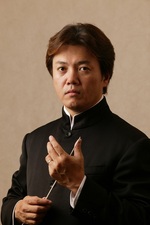 © Koichi Miura
Shigeo Genda(Conductor)
Born in Tokyo, Shigeo Genda majored in conducting at the Tokyo Music College, studying under Yasuhiko Shiozaka and Sei-ichi Mitsuishi and, at the Tokyo National University of Fine Arts and Music, under Kohtaro Satoh. In 1985, he was the recipient of Ataka Prize. From 1996 he led the Kanagawa Philharmonic Orchestra for 13 years making the orchestra take a great leap forward, and received the title of honorary conductor in April 2009 as recognition for his contribution to the orchestra. He has also conducted many other major orchestras with favorable receipts. Genda performed with the worldwide cellist Mustislav Rostropovich in December 2003, and in October 2004 at the concert to celebrate the empress's 70th birthday. Genda's career as opera conductor is wide and varied, many with collaboration with Kansai and Tokyo Nikikai. He conducted Yuzuru of Tamiya Kuriyama's production all over Japan in 2005 and 2008, and 6 performances of La Traviata with Ensemble Kanazawa at 6 venues including the Kanazawa Theater and Hyogo Performing Arts Center in 2011. In 2014, Genda participated in the Japan tour of the new production of Yuzuru by Udanji Ichikawa winning high praise, and returns to conduct the same production on another Japan tour in 2016. Genda is regularly invited to be a judge at the Antonio Pedrotti International conducting competition in Trento, Italy. He was a host of the NHK's radio program "FM Symphony Concert" for 3 years from April 2000.
---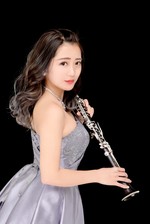 Chimari Uchiyama(Clarinet)
Uchiyama was born in Tomakomai, and graduated Ritsumeikan Keisho Senior High School. She has won the 1st prize and Minister of Education, Culture, Sports, Science and Technology Award at the 19th Japan Wind Brass Percussion Solo Competition for Senior High Students and is also a recipient of 1st prizes of the 19th Japan Junior Wind Brass Percussion Competition Senior High Clarinet Division, and of the 3rd K Clarinet Competition as well as being nominated in Takarazuka Vega Music Competition. She has studied under Kanami Ito, Mami Kuroiwa, Masaharu Yamamoto, Yusuke Noda and Hidemi Mikai. She is currently in Masterclass of Tokyo University of Arts.
---
Yosuke Kaneko(Cello)
Kaneko was born in Kushiro and graduated Toho School of Music with honors. Having completed Menuhin International Music Academy, he joined Festival Pablo Casals de Prades. He was nominated in the 70th Student Music Concours of Japan, Tokyo District and has won the 3rd prize nationally. He was also given IMA Music Award 2015 and 2017 Best Musician of Music Academy in Miyazaki. Kaneko joined the 4th year of Suntory Hall Chamber Academy Fellowship and received guidance from Jian Wang, and Mario Brunello, and studied under Hakuro Mori.
---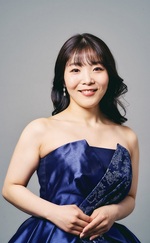 Ichiko Shimizu(soprano)
Shimizu was born in Sapporo and graduated Sapporo Otani University Department of Arts, majored in vocal with special merit, and was given Special Art Prize then. She participated in 2017 Sapporo Citizens Art Festival Young Artists Concert and presented honorable mention. She appeared in the concert with the orchestra of Sapporo Otani University, Sora-no-Concert in JR Tower, Young Buds Concert, and the 42nd Tani-no-Ne Concert. Shimizu studied under Tomoko Aikawa and Patricia Janečková.
---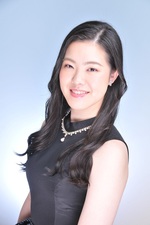 © Naoya Yamaguchi
Kana Furukawa(piano)
Furukawa was born in Sapporo and has been given the 1st prize in the 65th Student Music Concours of Japan, Hokkaido Division. She also received the Gold Prize from the 13th Chopin International Piano Competition in ASIA. Having joined 2015 and 2016 Ika-r International Music Camp, and being selected as the student with honor, she appeared in its Gala Concert. Furukawa was also a recipient of Fupper Tosu Piano Competition Moonlight Award. She studied piano under Hatsumi Yokochi, Keiko Akazawa, Noriko Hamada, Katumi Ueda and Yuya Tsuda, Solfege under Yuko Tejima, Chamber music under Kenji Watanabe, Taro Uemura, Takashi Nagamine and Midori Nohara. She is currently in the 4th year of Tokyo University of Arts and will be starting its master course in coming spring.