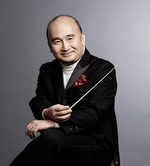 © Masaaki Tomitori
Junichi HIROKAMI(conductor)
Born in Tokyo, Junichi Hirokami studied conducting, piano, musicology and viola at the prestigious Tokyo College of Music. He began his conducting career at the age of 26 after winning the first Kondrashin International Conducting Competition in Amsterdam. Since 1990, Junichi Hirokami has appeared as guest conductor with major orchestras throughout the world including the Orchestre National de France, Berlin Radio Symphony Orchestra, Royal Concertgebouw Orchestra, Orchestre Symphonique de Montreal, Israel Philharmonic Orchestra, London Symphony Orchestra, and Wiener Symphoniker. Between 1988 and 1995, Hirokami was Chief Conductor of Sweden's Norrköping Symphony Orchestra. Since then he served as Chief Conductor of Limburg Symphony Orchestra (1998–2000), Principal Guest Conductor of Royal Liverpool Philharmonic (1997–2000), Principal Conductor of Japan Philharmonic (1991-2000), and Music Director of Columbus Symphony Orchestra (2006-2008). In recent years, he has been a guest conductor of orchestras which include Vancouver Symphony Orchestra, L'Orchestra Sinfonica di Milano Giuseppe Verdi, Monte Carlo Philharmonic, New Zealand Symphony Orchestra, São Paulo Symphony Orchestra, St. Petersburg Philharmonic Orchestra, Tchaikovsky Symphony Orchestra of Moscow, Baltimore Symphony Orchestra, Cincinnati Symphony Orchestra, and Gewandhausorchester Leipzig. In Japan he has conducted all the major orchestras including NHK Symphony Orchestra and the Saito Kinen Orchestra. He also received great acclaim for his appearance with the Mito Chamber Orchestra. He is prolific in opera as well, having led celebrated performances of "Un ballo in maschera" and "Rigoletto" at the the Sydney Opera House, and his most recent triumphs include "La Traviata" at the Fujiwara Opera, "Le Nozze di Figaro" and "Ainadamar" at the Nissay Theatre, and "La Traviata" and "Aida" at the New National Theatre. Hirokami is currently Chief Conductor and Music Advisor of the Kyoto Symphony Orchestra and Friendship Guest Conductor of the Sapporo Symphony Orchestra.   Hirokami has been receiving number of awards including the 46th Suntory Music Award in 2015, and the 36th NHK Symphony Orchestra Arima Prize in 2016. He serves as professor at Tokyo College of Music and guest professor at Kyoto City University of Arts.
---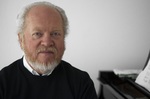 © Concerto Winderstein
Gerhard OPPITZ(piano)
The German pianist, Gerhard Oppitz has carried on the German musical tradition from legendary Wilhelm Kempff. His own career opened up internationally in 1977 when he became the first German to win the coveted Artur Rubinstein Competition. Gerhard Oppitz has performed with the world's most prestigious orchestras, including the Berliner Philharmonic Orchestra, Vienna Philharmonic Orchestra, Bavarian Radio Symphony Orchestra, London Symphony Orchestra, Israel Philharmonic Orchestra, Royal Philharmonic Orchestra, Philadelphia Orchestra, Cleveland Orchestra, and Boston Symphony Orchestra with conductors including Carlo Maria Giulini, Riccardo Muti, Lorin Maazel, Zubin Mehta, Sir Colin Davis and Wolfgang Sawallisch. Gerhard Oppitz has a wide and diverse repertoire. Performances of piano cycles feature prominently in his concert program: Beethoven, Schubert, Brahms, Schumann and Grieg. He also has earned a reputation in the performance of contemporary music, particularly in works by Lutoslawski, Ligeti, Veerhoff, Pierre Boulez, Messiaen and Stockhausen. Gerhard Oppitz' discography comprises over 40 titles. He recorded for RCA Red Seal and released remarkable albums such as the complete solo piano works of Brahms and Grieg, Piano Concertos of Brahms and Weber with Bavarian Radio Symphony Orchestra and Sir Colin Davis, Beeethoven's Piano Concertos recorded with the Gewandhausorchester Leipzig and Marek Janowski. In Japan, NHK broadcasted programs around his performances and masterclasses of Beethoven sonatas, to tie in with a tour he made around the country.
---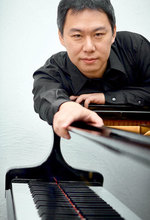 Kiyotaka Noda (Stravinsky)(piano)
After graduating and completing Tokyo University of the Arts and its Master Course, Noda obtained doctoral degree by carrying out recital series of combining Brahms and other works of the 20th century. Winning the first prize of the 64th Music Competition of Japan and others, Noda performed not only with the prestigious soloists in chamber music, but also with number of conductors including Tatsuya Shimono, Junichi Hirokami, Kazuyoshi Akiyama, Tadaaki Otaka, Sylvain Cambreling, Hideomi Kuroiwa, Yukinori Tezuka, Yoko Matsuo, Kazufumi Yamashita, Dmitri Liss and Kentaro Kawase, and with orchestras such as Yomiuri Nippon Symphony Orchestra, Japan Philharmonic Orchestra, Tokyo Symphony Orchestra, Tokyo City Philharmonic Orchestra, The Geidai Philharmonia Orchestra, Kanagawa Philharmonic Orchestra, Nagoya Philharmonic Orchestra, City of Kyoto Symphony Orchestra, and Osaka Symphony Orchestra. Noda is also actively participating in areas of the contemporary music, introducing Atsutada Otaka's Piano Sonata, and premieres of Piano concerti, and Boulez's Sur Incises, Japanese Premiere. Noda is a frequent visitor of the music festivals like Yufuin Music Festival, and Affinis Music Festival, and has performed and conducted Mozart's Piano Concerto and Ibert's Divertimento with Aichi Chamber Orchestra at the Assembridge NAGOYA. His CD recordings incudes Atsutada Otaka "Oto-no-Umi-kara (de la MER musicale)," works "French Connection" and "Trumpet Dance" with Atsushi Takahashi, trumpet, and "Sonatas by Brahms and Hindemith" with Hisashi Ono, viola. Noda was a lecturer in piano and chamber music at the Tokyo University of the Arts. He is now associate professor at the Tokyo Gakugei University, and Special Advisor in conducting at the Tokyo University of the Arts. He is also a member of Tokyo Kreis Ensemble, and Trio Edoarte.