Appearing
conductor / Kazufumi Yamashita
violin / Naoka Aoki
Song List
| | |
| --- | --- |
| Weber | Oberon Overture |
| Bruch | Scottish Fantasy op.46 |
| Beethoven | Symphony No. 6 in F major op. 68 "Pastoral" |
【Immediate Release】Change in Conductor (announced on October 19)
Mo. Taijiro Iimori, who was named to conduct the 631st Subscription Concert scheduled on October 23 and 24, is unable to attend the concert as he is diagnosed as acute cholecystitis and being hospitalized. Mo. Kazufumi Yamashita will be conducting the concert. There is no change in the program and soloist appearing. We thank you for your understandings. ※Mo. Dmitry SITKOVETSKY, conductor and violin, was to appear in this concert originally, however due to immigration limitation, Sapporo Symphony Orchestra has announced a change in the appearing artists and program. We apologize for this unforeseen change. We also like to express deep gratitude to Mo. Kazufumi Yamashita, who kindly accepted our invitation in such a short notice. Seating limitation for October 23 & 24 the 631st Subscription Concert (additional note as of October 12) Although the governmental organization has announced lifting up the seating limitation for the events and concert, the 631st Subscription will carry out with the seating plan previously announced, with a seat of either side be empty. ≪Subscribers are asked to bring a seating card already mailed to you by post. Kindly take your seat that has been informed for the September Subscription. ≫ ※Additional ticket sale for Friday, October 23 is closed. Whether or not tickets are still available on the day of the concert will be announced on Thursday, October 22. There will be no additional ticket sale for Saturday, October 24 Subscription. 【Additional Ticket Sale】(as of September 17) Having done a detailed review on the seating plan of September Subscription, we will be reselling the tickets of this concert. 10am on Friday, September 18 Doshin Playguide and Community Plaza Ticket Center ※Maximum of 100 tickets for Friday, October 23 Subscription ※At the moment, we do not plan reselling tickets for Saturday, October 24 Subscription. We will notify any change on this website. 【Change of Artists and Program】(as of September 3)

Mo. Dmitry SITKOVETSKY, conductor and violin, who were to be with us for the 631st Subscription Concert scheduled on October 23 and 24 is unable to arrive in Japan due to immigration restriction.

Mo. Taijiro Iimori and Naoka Aoki, violin will be with us for this concert and its program has been changes as below. There is no change on concert date/time.

Tickets for this concert are currently all sold out as it reached the maximum number of allowances following Japanese government's "Restrictions in carrying out events with COVID-19." Precautions and procedures against COVID-19 is announced on this official website. We thank you for your understandings and cooperation. 【Refund Policy】 If you are worried on your health condition, or from any other reason and cannot attend the concert, we will refund your ticket. Please make your request before the concert date. If you are unable to visit our office, we accept your ticket refund by receiving your ticket by post. There will be no refund at ticket offices. Please send your ticket by Letter Pack Light or registered mail. ●With your ticket, please enclose your memo with refund bank information. ※Bank information must include<Your Name/ Address/ Telephone Number/ Name of Bank/ Branch Name (or branch code)/ Ordinary account/ Account Number/ Account Name with Furigana> ●We kindly request that the guest will bear any expense necessary for ticket refund including postal and bank transfer fees. 【Inquiry】 Sapporo Symphony Orchestra Tel +81(0)11-520-1771(Weekdays 9:30am to 6pm) c/o Sapporo Concert Hall Kitara 1-15 Nakajima-koen, Chuo-ku Sapporo 064-0931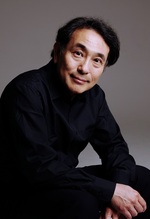 © ai ueda
Kazufumi Yamashita(conductor)
Graduated Toho Gakuen College in 1985, Kazufumi Yamashita continued his study at Universität der Künste Berlin, UdK. He won first prize at Denmark's 1986 Malko Competition for Young Conductors, and has assisted Herbert von Karajan since December 1985 until he passed away. His career in Europe includes conducting orchestra including Danish State Radio Symphony Orchestra, and has been Principal Guest Conductor of Helsingborg Symphony Orchestra in Sweden (1993-1998).
His debut in Japan was in 1988 with the NHK Symphony Orchestra Tokyo, and has been appearing in major orchestras regularly. Yamashita was Principal Guest Conductor of the Orchestra Ensemble Kanazawa (1992-1993), Regular Conductor of the Kyushu Symphony Orchestra (1996-1999), and Regular Conductor of the College Opera House Orchestra, Osaka College of Music (2002-2008). From 2006, he is the conductor of the Sendai Philharmonic Orchestra, presenting R. Stauss "Ein Heidenleben," Rimsky-Korsakov's "Scheherazade," Schumann's Symphony No. 2, No. 4, which were recorded and made into CD. Yamashita has been awarded "The 17th Mitsubishi UFJ Trust Music Award" by conducting Verdi's Falstaff and in April 2009, he appeared in the Subscription Concert of St. Petersburg Academic Symphony Orchestra with much success. In February 2011, he premiered Schumann's Opera "Genoveva" in Japan and in January 2013 and March 2016, carried out Opera "Castle Tower Story" by Shuko Mizuno, which led that Yamashita is the conductor building up his career both in opera and symphonies. From April 2016, he is Artistic Director of Chiba Symphony Orchestra. He is professor in conducting at the Tokyo University of the Arts.
---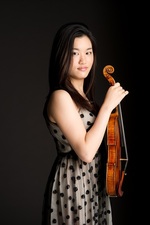 Naoka Aoki (violin)
Violinist Naoka Aoki, who won second prize at the Long- Thibaud-Crespin 2014 and she also got a special prize of the Prince Albert Ⅱ of Monaco (for the best interpretation of the concerto). She also won second prize at the 4th China International Violin Competition(Qingdao) in 2014. Born in Tokyo in 1992, she started playing the violin at the age of 3 and she has achieved many prizes in Japan including a special diploma from the Tchaikovsky Competition for Young Musicians 2004 and 1st Prize and three special prizes at the 78th Music Competition in Japan. She pursued the Soloist Diploma Course at the Toho College of Music in Tokyo as the youngest student from 2009 to 2011, studied with Prof. Masafumi Hori. From 2011 to 2015, she studied at the Royal College of Music under Prof. Mark Messenger as a Heather Laverne Scholar supported by Ian Stoutzker Prize, with additional support from the Rohm Music Foundation from 2011 to 2013. She is currently studying at the Royal Academy of Music under Prof. Mayumi Fujikawa as an ABRSM full scholarship student. She also regularly attends master-classes with Prof. Ana Chumachenco since 2010 including Kronberg Academy and International Music Academy Lichtenstein. Her debut was playing Paganini Violin Concerto No.1 with NHK Symphony orchestra. Later she got opportunity to play with the Orchestra Emsemble Kanazawa, Tokyo Symphony Orchestra, Tokyo Philharmonic Orchestra, Kanagawa Philharmonic Orchestra and Osaka Philharmonic Orchestra. She performed at various places as a soloist including Suntory Hall, Tokyo Opera City Concert Hall, Tokyo Bunka kaikan and Hamarikyu Asahi hall in Japan. As a chamber musician she also played various places in London including Wigmore Hall, Royal Albert Hall, Cadogan Hall, Bermingham Town Hall and Chipping Campden Festival. She also had a recital in France, including Music Festival in Basque, series of Le Pont des Arts(Normandy) and Music Site in Bordeaux. Recently she has received the Tagore Gold Medal from HRH Prince of Wales at the Royal College of Music where she graduated in 2015, she awarded as it the highest honor to give the most generally deserving student. She also won 3rd Prize at the 6th Sendai International Music Competition in June 2016.