Appearing
conductor / Kentaro Kawase
Song List
| | |
| --- | --- |
| Dvorak | Carnival Overture |
| Respighi | Antiche danze ed arie per liuto III.Suite |
| Berlioz | Roman Carnival Overture |
| Tchaikovsky | Swan Lake- Scene, Waltz, Dance of the Little Swans, Czardas |
| Smetana | The Moldau |
Mo. Kawase will be conducting for this concert
Mo. Hubert Soudant who was scheduled to join us for Masterpiece Concert on September12 is to cancel his appearance because of the limitation in entering Japan due to COVID-19. Mo. Kentaro Kawase will be appearing for this concert. There will be no change in the program, date or hour of the concert. We thank you for your understandings. 【Ticket sale for this concert is all finished as of June 22】 As to observe the governmental announcement of "Limitation of Event," the number of ticket sales has reached its maximum. The concert will be carried out following the guidelines of COVID-19 Prevention. 【Prevention for COVID-19 and our request】 Following the guidelines set by The Association of Public Theaters ad Halls and Sapporo Concert Hall Kitara, together with advice from medical professions, Sapporo Symphony Orchestra will take actions found below. For those guests who join us at the concert hall, please follow the precautions and requests by confirming the context before coming to the concert.
≪Prevention against COVID-19≫: https://www.sso.or.jp/2020/07/71-1/e//
Thank you for your cooperation.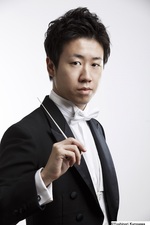 Kentaro Kawase(conductor)
Kentaro Kawase was born in Tokyo in 1984, and graduated from the Tokyo College of Music in 2007 with a major in conducting. His conducting teachers included Jun'ichi Hirokami, Yasuhiko Shiozawa, Myung-Whun Chung, and Arild Remmereit. He also studied piano and score reading under Reiko Shimada. He appeared in the Rainbow 21 Debut Concert 2005 at Suntory Hall, and conducted the Ensemble Endless, the Tokyo College of Music String Ensemble. In 2006, he participated in the Asia Philharmonic Orchestra Academy Conducting Workshop. He was second prize winner (no first prize was awarded) in the Tokyo International Music Competition for conducting in 2006. Currently Kawase is the conductor of the Nagoya Philharmonic Orchestra, Standing Conductor of the Kanagawa Philharmonic Orchestra and Music Director of Hachioji Youth Orchestra. He won "Watanabe Akio Music Foundation" award in 2015, and received the 65th Yokohama Culture Award Culture and Art Encouragement Award. He is also the winner of the 14th Hideo Saito Memorial Foundation Award, and the 26th Idemitsu Music Award. From September 2018, he is Principal Guest Conductor of the Orchestra Ensemble Kanazawa.