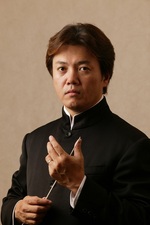 © K.Miura
Shigeo Genda(Conductor)
Born in Tokyo, Shigeo Genda majored in conducting at the Tokyo Music College, studying under Yasuhiko Shiozaka and Sei-ichi Mitsuishi and, at the Tokyo National University of Fine Arts and Music, under Kohtaro Satoh. In 1985, he was the recipient of Ataka Prize. In 1986 he made opera debut conducting Hänsel und Gretel with Nikikai Opera Foundation and continued to work with the company conducting Die Fledermaus and others while actively taking parts in orchestral concerts. In 1987 Genda was appointed as a conductor of the Japan Shinsei Symphony Orchestra. In 1988 he conducted the Dresdner Philharmonie in Japan as guest, and in 1990, he toured Europe with the Japan Shinsei. The same year he studied at the Wiener Staatsoper with the governmental grant. In 1991 he conducted Slovak Philharmonic Orchestra and a year after; he worked with the Prague National Opera as guest conductor on its Japan tour. With the Prague Symphony, he made his debut at its subscription the same year. His "Shinobu Sato Recital" within the Prague Spring International Festival in 1993 was broadcasted in Europe and received with sensation. From 1996 he led the Kanagawa Philharmonic Orchestra for 13 years making the orchestra take a great leap forward, and received the title of honorary conductor in April 2009 as recognition for his contribution to the orchestra. He has also conducted many other major orchestras with favorable receipts. Genda performed with the worldwide cellist Mustislav Rostropovich in December 2003, and in October 2004 at the concert to celebrate Her Majesty the Empress Emerita's 70th birthday. Genda's career as opera conductor is wide and varied, many with collaboration with Kansai and Tokyo Nikikai. He conducted Yuzuru of Tamiya Kuriyama's production all over Japan in 2005 and 2008, and 6 performances of La Traviata with Ensemble Kanazawa at 6 venues including the Kanazawa Theater and Hyogo Performing Arts Center in 2011. In 2014, Genda participated in the Japan tour of the new production of Yuzuru by Udanji Ichikawa winning high praise, and returns to conduct the same production on another Japan tour in 2016. Genda is regularly invited to be a judge at the Antonio Pedrotti International conducting competition in Trento, Italy. He was a host of the NHK's radio program "FM Symphony Concert" for 3 years from April 2000.
---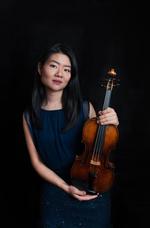 © Francisca Blaauboer
Mayumi Kanagawa(Violin)
Mayumi Kanagawa is a Japanese-American violinist currently studying at the Hochschule für Musik "hanns eisler" Berlin with Kolja Blacher. Recipient of the fourth prize at the 16th International Tchaikovsky Competition in Moscow and both the second and best concerto prizes at the 2018 Long-Thibaud Crespin competition in Paris, she is also the first prize winner of the 2016 Princess Astrid Competition in Trondheim, 2013 Jascha Heifetz Competition in Vilnius, and the 2011 Irving M. Klein Competition in San Francisco. Mayumi has soloed with many orchestras including the Prague Radio Symphony Orchestra, Mariinsky Orchestra, Deutsche Kammerphilharmonie Bremen, Finnish Radio Symphony Orchestra, Lithuanian National Symphony, among others. This season will see her debut with the Belgian National Symphony and Hugh Wolff, as well as return to the Lithuanian National Orchestra. Mayumi has a unique talent for communicating her love and joy of music making, in varied repertoire and venues. She is described as an open and virtuosic musician with a rare effortlessness in her playing, where the audience leaves the concert hall energized and inspired. Chamber music and outreach programs have brought Mayumi to the Trans-Siberian festival, Verbier festival, Chanel Pygmalion chamber music series in Japan, and TONALi tours throughout Germany. Mayumi's former teachers include Yoshiko Nakura, Masao Kawasaki in the Juilliard Pre-College division, and Robert Lipsett at the Colburn School. Mayumi performs on a Petrus Guarnerius (Mantua, late 17th century) violin, on generous loan from the Deutsche Musikinstrumentenfond of the Deutsch Stiftung Musikleben.