Appearing
Conductor, Arranger and MC / Koichi Fujino
Guest Vocal / Hiroshi Itsuki
Song List
| | |
| --- | --- |
| Part I The Sounds of Moon and Stars | Glenn Miller/ Moonlight Serenade, A. College /Star trek Melody, Debussy / Moon Light, Harline / When you wish upon a star |
| | H. Carmichael / Star dust (Oboe Solo Miyako Seki), Mancini / Moon River (Trumpet Solo Maki Tsuruta), Holst / Jupiter |
| Part II (with Guest) | Welcoming Hiroshi Itsuki ("Yoakeno Blues (Blues at dawn)" "Yokohama Tasogare (Yokohama Twilight)" "Sanga (Mountains and Rivers)", and many more) |
The 17th Sakkyo Pops Concert
The orchestra will present music related to moon and starts during the first half of the program with Mo. Koichi Fujino, conductor/arranger. There will be solo pieces by Ms. Miyako Seki, oboe and Ms. Maki Tsuruta, trumpet. For the second half of the program, we will invite Mr. Hiroshi Itsuki, the star brilliantly shines in the Japanese Pops for 55 years!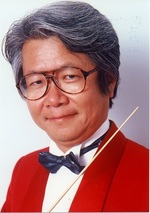 Koichi Fujino(Conductor, Arranger and MC)
Graduated from Tokyo College of Music and studied trumpet under Yukio Kanaishi, harmonics under Shinichiro Ikebe and Shigeaki Saegusa, and composition under Misogi Hosoya. He aimed to become an arranger while he was in the college, and upon graduation, Fujino became a professional arranger and keyboard player. Encounter with Kyu Sakamoto has encouraged Fujino's future music activities. While being in charge of Akina Nakamori's concerts for 7 years, he became a permanent staff in composition and arrangement for "NHK Let's Go Young," "That's Music," "NHK Red and White Singing Contest," and many more. As Music Director of NHK's program "Seishun Pops (Pops for Youth)," Fujino received the highest appraise not only nationwide but also from artists abroad on his arrangement, later regarded as the NHK top music program. For the film industry, Fujino has collaborated with Kazuyuki Idutsu for more than 30 years and took part in "Nodojiman (Song Contest)," "Big Show Hawaii-ni-Utaeba (Big show, sing in Hawaii)" by Toho, "Kishiwada Shonen Gurentai (Kishiwada Boys Gangsters)," "Sasurai-no-Traburubasuta (Trouble Baster-wandering)" by Shochiku, and "Kinkonkan" by Nikkatsu. Recent years, Fujino is highly respected and acting as Music Director for big names; Nana Mizuki's concert which collected 40,000 audience within 2 days, Big Band Concert with ASKA, and symphonic recording with Akira Fuse, Machiko Watanabe, and Norimasa Fujisawa.
---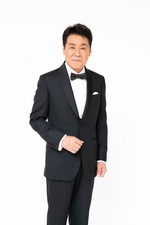 Hiroshi Itsuki(Guest Vocal)
Born in March 14, 1948 at Mihama, Fukui. Itsuki won the Columbia All Japan Song Competition in1964 and made his debut from the Columbian Records. In 1970, he was the Grand Champion at All Japan Song Competition and from 1971, as changing his name to Hiroshi Itsuki, his "Yokohama Tasogare" became the big hit, and Itsuki himself became the million seller singer. He appeared in NHK Red & White Singing Contest for 48 consecutive years (one of the two most appeared singer), and many awards including the top of the Japan Record Awards. The number of concerts he appeared counts up to more than 7,000 and his theater appearance counts up to more than 5,000, which collected more than 20 million guests. Itsuki has also frequently performed abroad, including Las Vegas (Hilton Hotel), Sydney (Opera House), New York (Lincoln Center), Honolulu, San Francisco, Seattle, San Nose, Toronto, Brazil, Istanbul, Ankara, Seoul, Taipei and Takao. He has been honored to be presented Medal with Purple Ribbon (2007) and Order of the Rising Sun, 4th Class Gold Rays with Rosette (2018).