Appearing
conductor / Matthias Bamert
piano / Gerhard Oppitz
Song List
| | |
| --- | --- |
| Michio Mamiya | Tableaux pour orchestra |
| Mozart | Symphony No. 40 |
| Brahms | Piano Concerto No. 2  |
【Single Tickets】will be on sale from Thursday, August 3, 10am (Sakkyo members- from Thursday, July 27 10am
■hitaru Subscription Concert Series No. 15 Mo. Bamert finally appears in hitaru Series. Maestro is very keen in introducing works composed in Hokkaido, and for this concert, he will present a work composed by Michio Mamiya from Asahikawa, "Tableaux pour orchestra." Mamiya was born in 1929, and this piece was premiered by Mo. Hiroyuki Iwaki, 3 months before his death, with Ensemble Kanazawa. Mo. Iwaki was our Conductor Emeritus, and who also had a nickname of "Enchant in Premières." The second piece for this night is Mozart Symphony No. 40, and Mo. Bamert was the Music Director of London Mozart Players. Mr. Oppitz will be with us again, following 2020 Brahms Piano Concert No. 1; and this time, we will be hearing No. 2!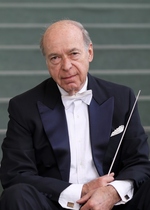 © Y.Fujii
Matthias Bamert(conductor)
The Swiss conductor Matthias Bamert studied music in Darmstadt and Paris with Pierre Boulez and Stockhausen. He was principal oboist with the Salzburg Mozart Orchestra between 1965 to 1969, then switched to conducting. Matthias Bamert's distinguished career began in North America as an apprentice to George Szell, later as Assistant Conductor to Leopold Stokowski and Resident Conductor of the Cleveland Orchestra under Lorin Maazel. He was Music Director of the Swiss Radio Orchestra (1977-1983), then began making a wider reputation across Europe. From 1985 to 1990, he was Principal Guest Conductor of the Scottish National Orchestra and Director of the Glasgow contemporary music festival Musica Nova, and premiered many works by Takemitsu, Casken, Macmillan and Rihm. He became famous for his creative programming as Director of the Lucerne Festival (1992-1998). Music Director of the London Mozart Players for seven years (1993-2000), Matthias Bamert masterminded a hugely successful series of recordings of works by "Contemporaries of Mozart". As part of their 50th Anniversary celebrations in 1999, he conducted the LMP at the BBC Proms and the Lucerne Festival. Matthias Bamert has also served as Principal Guest Conductor of New Zealand Symphony Orchestra (2000-2005), Associate Guest Conductor of Royal Philharmonic Orchestra (2003-2008), Principal Conductor of West Australian Symphony (2003-2007) and Malaysian Philharmonic Orchestra (2005-2008). In 2017, he has been appointed Principal Guest Conductor of the Daejeon Philharmonic Orchestra. From April 2018 he holds a position of Chief Conductor of Sapporo Symphony Orchestra. Matthias Bamert has appeared with many of the great orchestras of the world, including the Cleveland Orchestra, Chicago Symphony Orchestra, Orchestre de Paris, Philharmonia Orchestra, St. Petersburg Philharmonic Orchestra, Vienna Symphony Orchestra, Berliner Symphoniker, Los Angeles Philharmonic, Salzburg Mozarteum Orchestra, BBC Symphony Orchestra, MDR Sinfonieorchester, Pittsburgh Symphony Orchestra, Sydney Symphony Orchestra, etc. In Japan, he has conducted NHK Symphony Orchestra, Sapporo Symphony Orchestra, Kyoto Symphony Orchestra, Orchestra Ensemble Kanazawa, and Gunma Symphony Orchestra. A prolific recording artist, Matthias Bamert has made over 80 CDs, many of which have won international prizes. His output includes 24 CDs of music by Mozart's contemporaries with the London Mozart Players, the complete symphonies of Parry and five CDs of works by Frank Martin with the London Philharmonic Orchestra, the symphonies of Roberto Gerhard with the BBC Symphony Orchestra, the Dutch repertoire with the Residentie Orchestra and the Stokowski transcriptions as well as works by Korngold and Dohnanyi with the BBC Philharmonic Orchestra.
---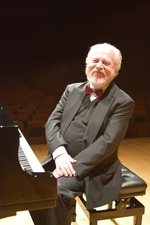 © HT/PCM
Gerhard Oppitz(piano)
ゲルハルト・オピッツはドイツ・ピアノの正統派を代表する演奏家として国際的にその名を知られている。音楽解釈におけるこの楽派の流れは、オピッツ自身の師であるヴィルヘルム・ケンプに繋がり、そしてその源流は、リストやベートーヴェンにまで直接遡る。  1953年、バイエルン州生まれ。5歳の時にピアノを始め、11歳で早くも公式の場でモーツァルトのニ短調協奏曲を演奏した。その際に演奏を聴いたシュトゥットガルト国立音楽大学の教授パウル・バックに見出され、1974年、ミュンヘンに移り住むまで、彼の元で研鑽を積む。  1973年ヴィルヘルム・ケンプと出会い、教えを受けるようになった彼は、ケンプから主にベートーヴェンのソナタと協奏曲について学んだ。師のケンプは、自身の解釈との著しい相似性に感服、彼の遺志により、オピッツは後継者として音楽的伝統を引き継ぐこととなった。  1977年、第2回アルトゥール・ルービンシュタイン・コンクールで第1位優勝。この優勝により、一躍、世界的に脚光を浴びる。翌年には、名門ドイツ・グラモフォンより最初のレコードをリリース。1981年、ミュンヘン国立音楽大学で開校以来最も若い教授となる。これまでに、ウィーン・フィルハーモニー管弦楽団、ベルリン・フィルハーモニー管弦楽団をはじめ、バイエルン放送交響楽団、ミュンヘン・フィルハーモニー管弦楽団、ロンドン交響楽団、ボストン交響楽団、フィラデルフィア管弦楽団、クリーヴランド管弦楽団、ピッツバーグ交響楽団等のオーケストラと、カルロ・マリア・ジュリーニ、リッカルド・ムーティ、ロリン・マゼール、ズービン・メータ、サー・コリン・デイヴィス、ヴォルフガング・サヴァリッシュ、ホルスト・シュタイン、サー・ネヴィル・マリナー、ヘルベルト・ブロムシュテット、ドミトリー・キタエンコ、ガリー・ベルティーニ等の指揮者と共演している。近年はリッカルド・ムーティの信頼厚く、各地で共演を重ねており、2006年ウィーンの楽友協会大ホールでバイエルン放送交響楽団と、2007年にはニューヨーク・フィルハーモニック定期で共演をし、ニューヨーク・タイムス等で絶賛された。また2016年には、ムーティ指揮ウィーン・フィルハーモニー管弦楽団との共演でザルツブルク音楽祭に登場した。 バッハからブーレーズまで幅広いレパートリーを持つが、特にシューベルト、ベートーヴェン、モーツァルト、バッハ、グリーグ、ブラームスのピアノ作品全曲を重要なレパートリーとしている。とりわけベートーヴェンとブラームスに関しては、世界最高の演奏者の一人として高く評価されており、世界各国で、ベートーヴェンおよびブラームスの全曲演奏会をたびたび行っている。  これまでに発売されたCDは40枚を超え、1989~1997年にBMG/RCA と専属契約を結んでレコーディングを行った。その中には、ベスト・セラーとなったブラームスのピアノ作品全集、コリン・デイヴィス指揮バイエルン放送交響楽団とのブラームスおよびウェーバーのピアノ協奏曲集、グリーグのピアノ作品全集、マレク・ヤノフスキ指揮ライプツィヒ・ゲヴァントハウス管弦楽団とのベートーヴェンのピアノ協奏曲集がある。最近ではヘンスラー・レーベルから継続的に作品を発表しており、ベートーヴェンのピアノ・ソナタ全集に続き、シューベルトのピアノ作品集(全12枚)がリリースされた。  日本では1994年、NHKテレビのゴールデン・タイムで通算7時間にわたって放映されたベートーヴェン・ソナタ集の演奏およびレッスンが、爆発的人気を呼んだ。2005~08年にわたり日本で開催した「ベートーヴェン・ソナタ全曲演奏会」は、彼自身日本で初めての試みであり、大絶賛のうちに終了した。2010~13年の「シューベルト連続演奏会」に続き、2015~2018年で「シューマン×ブラームス連続演奏会」を開催し、好評を博す。親日家でもあり、日本で最も人気のあるピアニストの一人である。