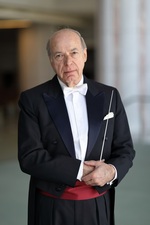 © Y.Fujii
Matthias BAMERT(Conductor)
The Swiss conductor Matthias Bamert studied music in Darmstadt and Paris with Pierre Boulez and Stockhausen. He was principal oboist with the Salzburg Mozart Orchestra between 1965 to 1969, then switched to conducting. Matthias Bamert's distinguished career began in North America as an apprentice to George Szell, later as Assistant Conductor to Leopold Stokowski and Resident Conductor of the Cleveland Orchestra under Lorin Maazel. He was Music Director of the Swiss Radio Orchestra (1977-1983), then began making a wider reputation across Europe. From 1985 to 1990, he was Principal Guest Conductor of the Scottish National Orchestra and Director of the Glasgow contemporary music festival Musica Nova, and premiered many works by Takemitsu, Casken, Macmillan and Rihm. He became famous for his creative programming as Director of the Lucerne Festival (1992-1998). Music Director of the London Mozart Players for seven years (1993-2000), Matthias Bamert masterminded a hugely successful series of recordings of works by "Contemporaries of Mozart". As part of their 50th Anniversary celebrations in 1999, he conducted the LMP at the BBC Proms and the Lucerne Festival. Matthias Bamert has also served as Principal Guest Conductor of New Zealand Symphony Orchestra (2000-2005), Associate Guest Conductor of Royal Philharmonic Orchestra (2003-2008), Principal Conductor of West Australian Symphony (2003-2007) and Malaysian Philharmonic Orchestra (2005-2008). In 2017, he has been appointed Principal Guest Conductor of the Daejeon Philharmonic Orchestra. From April 2018 he holds a position of Chief Conductor of Sapporo Symphony Orchestra. Matthias Bamert has appeared with many of the great orchestras of the world, including the Cleveland Orchestra, Chicago Symphony Orchestra, Orchestre de Paris, Philharmonia Orchestra, St. Petersburg Philharmonic Orchestra, Vienna Symphony Orchestra, Berliner Symphoniker, Los Angeles Philharmonic, Salzburg Mozarteum Orchestra, BBC Symphony Orchestra, MDR Sinfonieorchester, Pittsburgh Symphony Orchestra, Sydney Symphony Orchestra, etc. In Japan, he has conducted NHK Symphony Orchestra, Sapporo Symphony Orchestra, Kyoto Symphony Orchestra, Orchestra Ensemble Kanazawa, and Gunma Symphony Orchestra. A prolific recording artist, Matthias Bamert has made over 80 CDs, many of which have won international prizes. His output includes 24 CDs of music by Mozart's contemporaries with the London Mozart Players, the complete symphonies of Parry and five CDs of works by Frank Martin with the London Philharmonic Orchestra, the symphonies of Roberto Gerhard with the BBC Symphony Orchestra, the Dutch repertoire with the Residentie Orchestra and the Stokowski transcriptions as well as works by Korngold and Dohnanyi with the BBC Philharmonic Orchestra.
---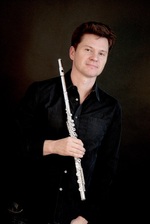 © Claudia Prieler
Karl-Heinz SCHÜTZ(Flute)
Karl-Heinz Schütz is Solo Flute of Wiener Philharmoniker and therefore in the same position at the Wiener Staatsoper, having held the same position with the Stuttgarter Philharmoniker for four years, and with the Wiener Symphoniker from 2005 to 2011. Born in Innsbruck and raised in Landeck, Tyrol, he received his musical education at the Landeskonservatorium in Vorarlberg with Eva Amsler, Conservatoire national supérieur de musique in Lyon with Philippe Bernold, and with Aurèle Nicolet in Switzerland. He won first prizes at the Carl Nielsen International Music Competition in 1998 und the International Flute Competition Kraków in 1999. He has performed as soloist across Europe and Japan, with performances of the importantflute concertos with Wiener Philharmonikerand Symphoniker as well as NHK Tokyo and Sapporo symphony orchestra, a.o. Conductors such as Daniel Barenboim, Fabio Luisi, Yakov Kreizberg, Dmitrij Kitajenko and Bertrand de Billy invited him to be the soloist in their concerts. Karl-Heinz Schütz is a passionate chamber musician and a member of various ensembles from baroque to contemporary. In 2013 he succeeded Wolfgang Schulz in the Ensemble Wien-Berlin and in the WIENER RING ENSEMBLE. He has appeared at international festivals in Salzburg, Bregenz, Graz, Montpellier, Rheingau, Sapporo and Prague, among others. Karl-Heinz Schütz is Professor of Flute at the Musik und Kunst Privatuniversität der Stadt Wien and has held several guest professorships. He gives master-classes throughout Europe and is also an active recording artist, especially for CAMERATA TOKYO, where his Mozart, Prokoffiev and Brahms Cds were released. With the Academy of St. Martin in the fields under Sir Neville Marriner an album was published at CHANDOS, with the title: 20th centuries concerto grosso. He is artistic director at HORIZONTE Landeck.
---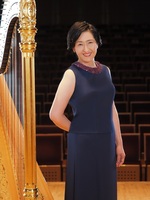 © Tomoko Hidaki
Naoko YOSHINO(Harp)
Japanese harpist Naoko Yoshino was born in London, and started her harp studies with Susann McDonald at the age of six in Los Angeles. In 1981, she received the Second Prize at the First International Harp Competition in Rome. In 1985, at the age of seventeen, she was the First Prize Winner at the Ninth International Harp Contest in Israel. Naoko Yoshino's solo engagements with the world's top orchestras have included the Berlin Philharmonic Orchestra, Israel Philharmonic Orchestra, Zurich's Tonhalle Orchestra, Leipzig Gewandhaus Orchestra, Philharmonia Orchestra, The Philadelphia Orchestra, and Concentus Musicus Wien. Renowned conductors with whom she has shared the stage include Nikolaus Harnoncourt, Zubin Mehta, Pierre Boulez, Herbert Blomstedt, Yehudi Menuhin, Frühbeck de Burgos, and Seiji Ozawa. She has given solo recitals in New York, Vienna, London, and Tokyo, among other cities around the world. Naoko Yoshino has been invited to numerous prestigious music festivals, such as the Lucerne, Salzburg, Schleswig-Holstein, Marlboro, and Seiji Ozawa Matsumoto Festivals. Through chamber music, she has worked closely with such renowned musicians as violinist Gidon Kremer, violists Veronika Hagen and Nobuko Imai, cellist Clemens Hagen, flutists Aurèle Nicolet, Jean-Pierre Rampal, Wolfgang Schulz, Emmanuel Pahud, and horn player Radek Baborák. As an advocate of new repertoire for the harp, Naoko Yoshino has premiered many works, including Toru Takemitsu' s "And then I knew 'twas Wind", Toshio Hosokawa' s Harp Concerto "Re-turning", Yuji Takahashi' s "Insomnia", and Ami Maayani' s "Sonata No.2" for solo harp. Recordings to date include releases on the Teldec, Philips, Sony Classical, and Virgin Classics labels. In 2015, Naoko Yoshino released a Harp Concerto album from the Aparté label. The same year, she also started recording for her own private label "grazioso" . The first two albums from this new "grazioso" label: "Harp Recital - Favorite Masterpieces and more…" and "Harp Recital II - Sonata / Suite / Variations" , were met with much acclaim, and the third album "Harp Recital III – Schumann / Schubert / Mozart / Mendelssohn / Brahms / Bach" was released in February of 2018. Prizes achieved include: 1988, Arts Festival Prize (Japan Agency for Cultural Affairs); 1989: Mobil Music Award for Brilliant Young Musicians; 1991, Avon Awards to Women (Arts division).