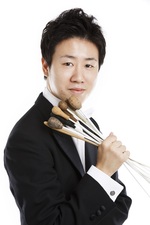 © Yoshinori Kurosawa
Kentaro KAWASE(Conductor)
Born in Tokyo in 1984 and graduated with a degree in conducting from the Tokyo College of Music in 2007, having studied under Junichi Hirokami, Yasuhiko Shiozawa and others. Was awarded 2nd place (which was the highest level with no 1st place) at the Tokyo International Music Competition for Conducting in 2006, and since then KAWASE has received invitations to conduct Tokyo Symphony Orchestra, Japan Philharmonic Orchestra, Kyushu Symphony Orchestra, Sapporo Symphony Orchestra, Yomiuri Nippon Symphony Orchestra, Tokyo Philharmonic Orchestra among others. He was also the assistant conductor of Pacific Music Festival (2007~2009). Kawase is to be Resident Conductor of the Sapporo Symphony Orchestra from April 2022.
---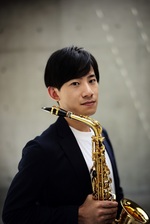 Kohei UENO(Saxophone)
Born in Japan, Kohei started playing the saxophone at the young age of eight in his school band. He graduated from Tokyo University of the Arts, instrumental music department. Kohei had attracted public attention from an early age and made his debut while still in school. Reviews include: "Listening to just one note, I knew Kohei was specially gifted." Kazuki Yamada, conductor "I have never heard such sounds from a saxophone. He is an eye-opener." Keith Lockhard Kohei made a sensational senior debut winning 1st prize at the 28th Japan Wind and Percussion Competition, youngest ever in its long history. In 2014, he won a prestigious 2nd prize at 6th Adolphe Sax International Competition in Belgium. His recital in 2016 was a great success with all unaccompanied works at the B→C Concert. He continues to challenge new repertoires and pursues all possibilities of the saxophone. His first CD album "Massage to ADOLPHE" was released in 2014. The following year, he released a CD with Panda Wind Orchestra where he is concert master. 2017 saw his debut CD with The Rev Saxophone Quartet. His third solo album "Breath", with the unaccompanied Bach, is scheduled to be released in December 2017. Kohei has also appeared in various medias including the Japanese popular TV program "Untitled Concert" and " Houdou Station" . He is a lecturer at Showa College of Music. He is a member of The Rev Saxophone Quartet and concert master of Panda Wind Orchestra.
---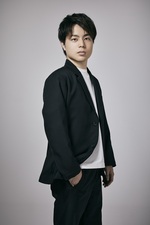 © Takafumi Ueno
Atsushi YAMANAKA(Piano)
Atsushi Yamanaka, a classically trained pianist, composer, and arranger, was the First Prize winner of the 2015 Sougakudo Concert Hall Japanese Songs Competition upon his graduation with a Master's and Bachelor's Degrees from the Department of Composition and Piano Performance at the Tokyo University of the Arts, where he studied with Akira Eguchi. His musical arrangements are highly acclaimed and they range from a variety of musical genres, such as pop to classical. In 2018, he made his recital debut as a pianist. He has appeared as a pianist for the Tokyo Symphony Orchestra, the Tokyo Philharmonic Orchestra, and the Kanagawa Philharmonic Orchestra and his compositions and arrangements also have been performed by these leading orchestras in Japan. Many of his instrumental, chamber music, and choral works are published by Yamaha Music Media and Kawai edition. The CDs he has recorded have been selected as a special edition by the Record Art Magazine. He has also appeared in numerous numbers of prestigious musical series such as NHK "Classic Music Hall" and NHK-FM "Recital Nova". In 2020, he formed the piano duo "176" (Un Sept Six) with pianist and composer Yusuke Takahashi, which performed orchestral works of his own arrangements. Their latest album "John Williams Piano Collection" was released on Avex Classics International Inc. in 2021.
---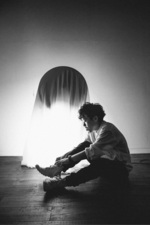 © Takara Mahaya
Shun ISHIWAKA(Percussion)
Percussionist, born 1992 in Hokkaido. Studied percussion at the Music High School Attached to the Faculty of Music, Tokyo University of the Arts. Graduated from the same university, and won an Acanthus Music Award and a Douseikai Award at the time. Next to leading his own projects, including Answer to Remember, SMTK and Songbook Trio, he also appears at live performances and recordings by such artists as Quruli, CRCK/LCKS, Kid Fresino, Ohzora Kimishima and Millennium Parade. His most recent activities include the "excursion" type performance Shun Ishiwaka + Nobuyoshi Asai live session. In addition to soundtracks for the movie Architecture, Time and Kazuyo Sejima and the NHK audio drama Okujo no shinnyusha, he also contributed music for promotional movies for products and series such as OU (Yamamoto Co., Ltd.), "Niji no koku chapter 15" (Madame Figaro), LOEWE FW21 | Exploring Happiness, and "Jordan – Tokyo Fearless Ones" (Nike). In 2022, he wrote music for the NHK program Ending Cut together with Tomomi Oda. Co-performances with overseas artists include appearances at concerts in Japan by Kurt Rosenwinkel and Jason Moran among others. At YCAM, the new concert piece Sound Mine by Miyu Hosoi + Shun Ishiwaka+YCAM was unveiled in 2019. Web site: http://www.shun-ishiwaka.com/home