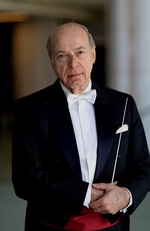 © Y.Fujii
Matthias Bamert, Chief Conductor(Conductor)
The Swiss conductor Matthias Bamert's distinguished career began in North America as an apprentice to George Szell, later as Assistant Conductor to Leopold Stokowski, and Resident Conductor of the Cleveland Orchestra under Lorin Maazel. He was Music Director of the Swiss Radio Orchestra (1977-1983), then began making a wider reputation across Europe. Matthias Bamert has also served as Music Director of London Mozart Players (1993-2000), Principal Guest Conductor of Royal Scottish National Orchestra (1985-1990) and New Zealand Symphony Orchestra (2000-2005), Associate Guest Conductor of Royal Philharmonic Orchestra (2003-2008), Principal Conductor of West Australian Symphony (2003-2007) and Malaysian Philharmonic Orchestra (2005-2008). He was also Director of the Glasgow contemporary music festival Musica Nova (1985-1990) and Lucerne Festival (1992-1998). In 2017, he has been appointed Principal Guest Conductor of the Daejeon Philharmonic Orchestra. From April 2018 he holds a position of Chief Conductor of Sapporo Symphony Orchestra. Matthias Bamert has appeared with many of the great orchestras including the Cleveland Orchestra, Chicago Symphony Orchestra, Orchestre de Paris, Philharmonia Orchestra, Vienna Symphony Orchestra, Los Angeles Philharmonic, NHK Symphony Orchestra and Sapporo Symphony Orchestra. A prolific recording artist, Matthias Bamert has made over 80 CDs, many of which have won international prizes.
---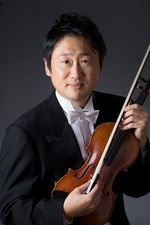 © M.Sato
Takahiro Tajima(Violin, Concertmaster)
Takahiro Tajima was born in 1978 in Sendai, and started to play violin at the age of four. He graduated the Toho Gakuen Music High School and Toho Gakuen College Music Department, and studied under Takayoshi Wanami. From 2001 to 2004, Tajima was the concertmaster of the Sapporo Symphony Orchestra and then moved to Germany to study at the Hochschule für Musik Freiburg under Rainer Kussmaul. Upon graduating the Hochschule in 2006, Tajima joined Staatsorchester Rheinische Philharmonie in Koblenz as the second concertmaster, and in 2008, became the first concertmaster of the Nordwestdeutsche Philharmonie. While based in Germany, Tajima performed in Berlin, Hamburg, Amsterdam, Zurich and other cities in Europe. Tajima returned to Japan to become the concertmaster of the Sapporo Symphony Orchestra in September 2014. As a soloist, Tajima collaborated with the Sapporo Symphony Orchestra, the Nordwestdeutsche Philharmonie, the Symphony Orchestra of the Hungarian Radio, and many others. He appeared in Saito Kinen Orchestra, SWR Sinfonieorchester Baden-Baden und Freiburg, and acted as the concertmaster with Tokyo Ensemble (Joji Hattori, Artistic Director), and Kurpfälzisches Kammerorchester (KKO) in Mannheim. Tajima is also a passionate chamber music player, and appeared on the stage with Rainer Kussmaul, and Seiki Shinohe at the Toppan Hall for Brahms' Clarinet Quintet (DENON label). He also performed in front of the Emperor and Empress of Japan at Toka-Gakudo in the Palace, joined the Contemporary Music Festival in Taiwan, and held recitals in Spain and Germany. With Takayoshi Wanami and Mineko Tsuchiya, he recorded Franck's Piano Quintet (ART UNION), and has been participating in Takayoshi Wanami's Yatsugatake Summer Course and Concerts as an assistant.
---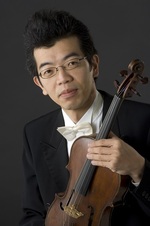 © M.Sato
Akira Hirokari(Viola, Principal)
Akira Hirokari was born in 1970 in Kobe, and graduated Tokyo University of Arts. Hirokari being a member of the Musa String Quartet won the first prize of Tokyo Contemporary Art Music Festival Competition, the First Asahi Contemporary Art Music Award, and Nippon Columbia Special Award. The Musa String Quartet was also awarded the second prize of Tokyo International Chamber Ensemble Competition, the Lufthansa Award. Hirokari assumed positions of the principal in Tokyo University of Arts Orchestra, Hiroshima Symphony Orchestra, Osaka Philharmonic Orchestra, and of Sapporo Symphony Orchestra, the position which he holds today. As a soloist, Hirokari performed with Hiroshima Symphony Orchestra and Sapporo Symphony Orchestra and appeared in Kiso Music Festival and Kurashiki Music Festival. He held solo recitals in 2004, visiting 3 cities and in May 2009 visited 2 cities, all well received. As a soloist for the Sapporo Symphony Orchestra Subscription Concerts, he played works of Japanese composers including Hikaru Hayashi and Toru Takemitsu. In 2005, he appeared as a soloist for Bartok's Viola Concert and in May 2009 for R. Strauss' "Don Quixote" all impressive. He is one of the outstanding violist today in Japan, with his rich and refined tone which sharply lead to the essence of the music. Hirokari studied violin under Reiji Takeuchi, Takako Murata, Takaya Urakawa, and viola under Takaya Urakawa, Toshiyuki Uzuka, Junji Suganuma, Nobuko Imai and Ulrich Koch. Hirokari is a part-time senior lecturer of Hokkaido University of Education, Iwamizawa Campus.