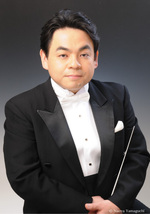 © N.Yamaguchi
Tatsuya Shimono(Conductor)
Born in Kagoshima in 1969, Tatsuya Shimono cemented his international reputation as a conductor by winning the First Prize at the 47th Besançon International Competition in 2001. Since then he has regular relationships with a number of international orchestras including Orchestra dell'Accademia Nazionale di Santa Cecilia, Czech Philharmonic Orchestra, Stuttgart Radio Symphony Orchestra, Orchestre National des Pays de la Loire, Südwestdeutsche Philharmonie Konstanz and Silicon Valley Symphony, alongside with major Japanese orchestras. In 2006 Shimono was appointed Resident Conductor of the Yomiuri Nippon Symphony Orchestra and served as their Principal Guest Conductor from 2013 through 2017. In April 2017 he became General Music Director of the Hiroshima Symphony Orchestra. Shimono is currently also Music Director of the Hiroshima Wind Orchestra and Principal Guest Conductor of the Kyoto Symphony Orchestra. In addition to his work with symphony orchestras Shimono's opera conducting has included Die Zauberflöte, Hänsel und Gretel and The Merry Widow at Nikikai Opera, Medea, Lear (both composed by Aribert Reimann) and Hänsel und Gretel at the Nissay Theatre, La Forza del Destino at the Japan Metropolitan Opera and The Silence (Teizo Matsumura) at New National Theatre Tokyo. He has been invited to a plethora of music festivals, including the Affinis Music Festival, the Kirishima International Music Festival, the Miyazaki Music Festival, and the Beppu Argerich Music Festival. He was resident conductor at the 2010 Saito Kinen Festival that included conducting four concerts with the Saito Kinen Orchestra. Following on from this he made his North American debut with the orchestra at Carnegie Hall. Contemporary music forms an important part of Shimono's career, conducting repertoire across the spectrum including Ades, Cage, Glass, Gruber HK, Adams, Takemitsu and Hosokawa. Tatsuya Shimono's recordings include Strauss Ein Heldenleben with the Czech Philharmonic Orchestra and Bruckner Symphony in D minor (No. 0) with the Osaka Philharmonic Orchestra. Tatsuya Shimono received numerous awards such as the Idemitsu Music Award, the Akeo Watanabe Music Foundation Award, the Nippon Steel Music Award (New Artist Award), the 6th Hideo Saito Memorial Fund Award. He was invited to join the faculty of the Kyoto City University of Arts in April 2017.
---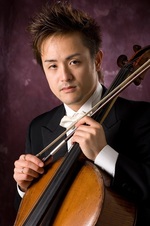 © M.Sato
Yuji Ishikawa,(Principal Cello)
Ishikawa started to play cello at the age of eight, and continued his study at Tokyo University of Music with special distinction. He graduated the University with summa cum laude rewarded NTTDoCoMo award and other various scholarships. In order to search further in performance, Ishikawa completed the postgraduate course in 2001. Ishikawa's mentors were Shuya Matsushita, Ryoichi Hayashi, Akimichi Hoshino, Fumiaki Kono, and Ryosuke Hori. Ishikawa's activity is varied, not only with the orchestra, but also as a soloist and a chamber musician. He won the second prize in the 8th Japan Chamber Music Competition (1998) and the first prize (no second prize selected) in the 68th Music Competition of Japan "Cello," with Kuroyanagi award (1999). During the same year, Ishikawa became a transfer and scholarship student between Okinawa International Music Festival 1999, sponsored by Shuku Iwasaki, and Chigiana Music Academy in Siena, Italy, which gave him an opportunity to study cello under Mario Brunello. In May 2002, Ishikawa won the Best Young Player Award from the 8th Ogaki Music Festival. His soloist activities include concerts with Central Aichi Symphony Orchestra, Tokyo City Philharmonic Orchestra, Tokyo Symphony Orchestra, Kanagawa Philharmonic Orchestra, Hyogo Performing Arts Center Orchestra, and Sapporo Symphony Orchestra, all highly acclaimed. Ishikawa was the principal cello of Tokyo Symphony Orchestra, and became the principal cello of the Sapporo Symphony Orchestra in April 2005, the position he now holds. Ishikawa is a recipient of the 2010 DOGIN Arts and Culture Encouragement Award. Ishikawa is a part-time senior lecturer of Hokkaido University of Education, Iwamizawa Campus.
---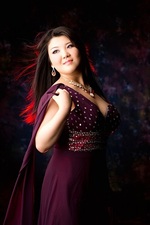 Saki Nakae(Soprano)
Born in Takasu-cho, Kamikawa-gun, Hokkaido and studied Vocal in Music Course, Art Study, Hokkaido University of Education, Iwamizawa Campus. Nakae continued to study Vocal Solo in Master Course, and in Doctoral Course at the Tokyo University of Arts, and while she was studying in her postgraduate course, she has won acanthus award. Since then, she has been awarded Mitsubishi Estate Award, Asahikawa New Artist Award 2008, the 14th Japan Mozart Music Competition Vocal Section (2nd prize), the 78th Japan Music Competition Opera Section, the 3rh Julliard Music Competition (1st prize), the 12th Yoshinao Nakada Memorial Competition Award (Grand Prize), the 25th HIMES Music Competition Vocal Section (1st prize), the 11th Tokyo Music Competition Vocal Section (3rd prize, no 1st prize given), and many more. Nakae is active both in opera and symphonic stages, performing Donna Anna in Mozart's Don Giovanni, Fiordiligi in Cosi fan tutte, Queen of the Night in the Music Flute, Musetta in Puccini's La bohème, Gilda in Verdi's Rigoletto and appeared in Mozart's Mass in C minor, Requiem; Beethoven's Symphony No. 9, and Missa solemnis, Dvorak's Requiem, Faure's Requiem, and Carmina Burana by Carl Orff. The most recently, Nakae has received the 27th Dogin Art and Culture Promotional Award.